Jeff took this shot...Watching the sun go down!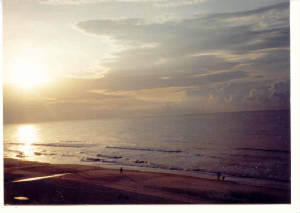 Sunset at the Beach! 1991
Fishing with Tim and "The Bud" (Maggie.)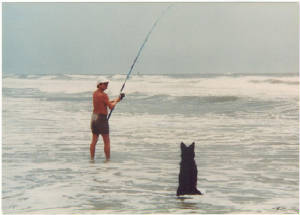 Favorite afternoon activity...Friends, Fishing & the Water!
Before the end of 1992, Jeff had the entire island blaming it on "The Water." Olympia Beer's slogan is "Its the water." Somehow Jeff could explain anything away by simply raising a cold one, giving a big toothy smile, looking out at the beach and saying "Its the Water!"
Soon everyone was using "The Water"/Olympia as an excuse for "whatever" all over the island of Folly and in mainland Charleston. A friend and artist, Moondog, made up T-shirts with an "It's the Water" slogan for Jeff and everyone had to have one. This was just one of the T-shirts soley or partially inspired by Jeff's whacky quotes.
He was in on another prank for Tim...This time the t-shirt had a drawing of Tim in a laundry basket and said "Do me do my laundry." Another of Jeff's quotes, in amage to his idol of the moment; Jim Morrison, was "in through the out door." A T-shirt was also born of this one...this time with Jeff's "ornament" on front!
Jeff's Best Beach Pal Tim sips a cold one!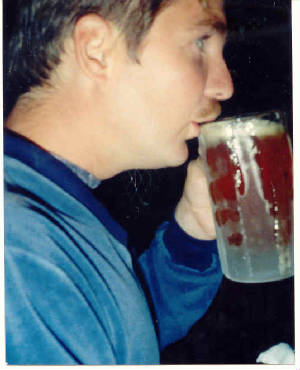 Charleston, SC
Might have been "Jeff's dream pumpkin!"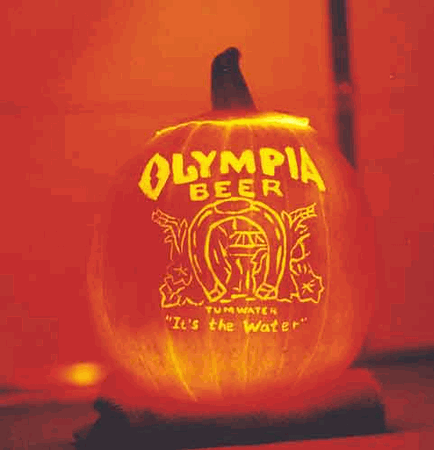 Jeff & Tim were "the men" surrounded by the ladies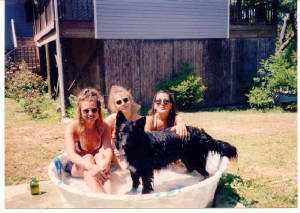 Jeff passed the reigns of taking care of the girls to Tim when he left the beach!
Friends kept coming to visit Charleston and Folly.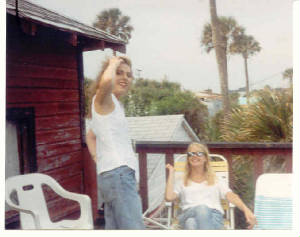 Beth pictured here with KaRon on Folly decided that she loved it enough to make it home!
Set to head home after an all day beach day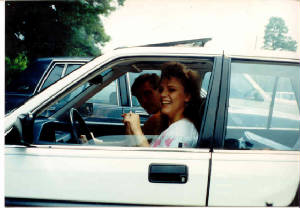 I think we were leaving the Jose Quervo Vollyball Tournament!
Another Visit Home from Charleston ....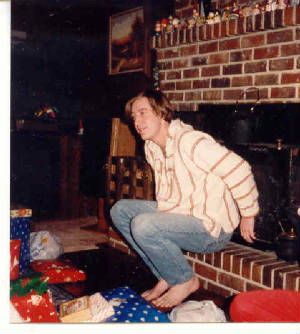 Another Freezing Jeff. He just couldn't get used to the temp changes in holiday season!